Let us enrich your life and give you a chance to make a difference!
Did you know last school year we provided recycling education to 1,681 children.
We hope to increase our outreach this year!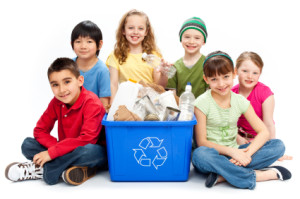 Our normal hours of operation are Tuesdays and Thursdays 1-4 and Saturdays 9-3. We are willing to give tours at other times per request. Our volunteers work around your schedules for on sight presentations. If you have other needs that have not been addressed here please feel free to contact us.
Facility tours are available to all general public groups. Every tour begins in the Education Center with "The Three R's". These are REDUCE, REUSE and RECYCLE. In the Tour, we discuss each recycling category and its potential. When possible, we give a demonstration of how our baler works. At the end of the tour we discuss other ways you can reduce waste.
Classroom presentations (in the schools) are primarily for elementary aged children. Classroom visits include discussion, and student participation. In a school setting we are able to present to more than one class each day.
Community programs can be scheduled for any age group. They sometimes can be targeted to a narrower range of interest if needed.

GORDON'S BOOK NOOK

, named in Memory of

Gordon MacKay

.

He devoted nearly 10 years to making our used books available to others free of charge

Feel free to bring your recyclables.  Then, spend some time browsing the ever changing offerings of the LIBRARY.

BOOKS brought to PRo Kansas are either RECYCLED OR REUSED.

A free library is located in the southeast corner of the PRo Kansas Recycling Center.  It was not in the original plan, but grew because people (recyclers anyway) hate to throw away books.  So with some donated shelving and volunteer power, a new category began.  You will find both hard cover or paperbacks on the shelves and in a wide variety of topics.  You may take them just to read and return for someone else to enjoy, or you may keep it in your collection.If we receive books that are outdated or damaged they are REUSED.  They are cut up and shipped off to be made into many different things.If you have a large collection of books that need to be handled in this manner (textbooks/law books), please call or e-mail the director of operations for special instructions on bringing them
We are always in need of dependable volunteers. If you have interest in giving presentations or tours
please contact the Education Director. To make an education based request please e-mail:

Director of Education education@prokansasrecycling.org
To volunteer at the recycling center or in other capacities, email our volunteer coordinator at volunteers@prokansasrecycling.org